Gone are the days when every piece in bedroom sets, living room furniture and lighting fixture collections all matched in a room. We now know that mixing materials, colors and textures elevates a space's style and creates a fresh effect.
One of the latest trends in lighting is to do the same kind of mixing…in one fixture. More and more, we are seeing pieces that use contrasting materials like modern metal with rustic, distressed wood; or that combine a traditional finish with a modern color; or even have two finishes with similar tones but different textures. Such lighting fixtures deliver a delightfully unexpected look and provide depth to a space.
Mixed Materials
You like metal. You like wood. Now you don't have to choose one or the other when it comes to lighting designs. Mixed materials in lighting can tie together an overall look, inject some coziness into a stark modern room, or add a contemporary punch to a traditional one. Mixing materials also enables a blending of styles and eras—something professional interior designers often put to very good use.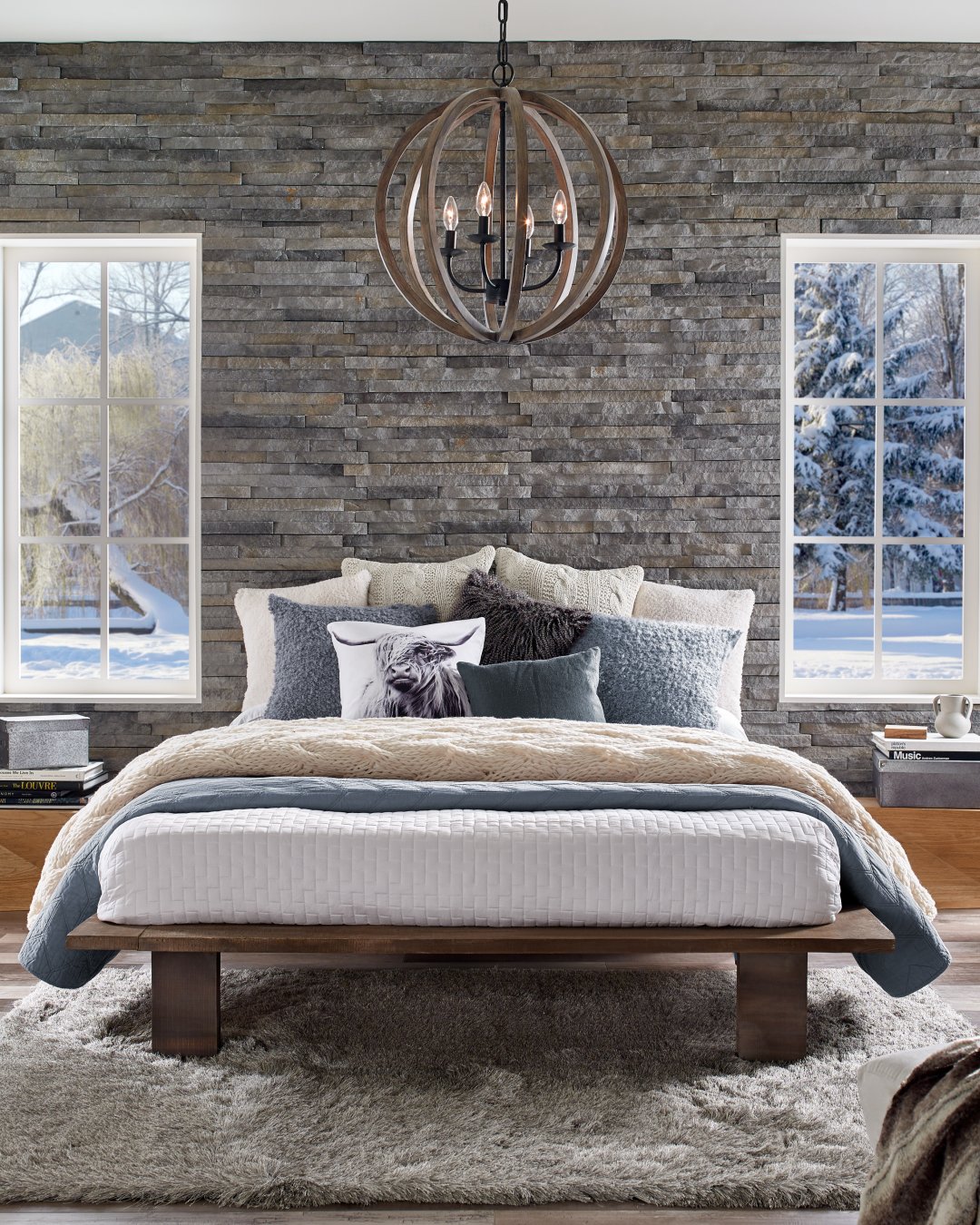 As an example of tying together an overall scheme with mixed materials, the Allier Pendant Light by Feiss has an orb made of aged oak paired with contrasting antique forged iron. Texturally rich, it brings a cohesiveness to a casual, mountain luxe bedroom that's been designed with a mix of brick, wood and plush accessories. The pendant also enhances the soft, muted tones of the bedding.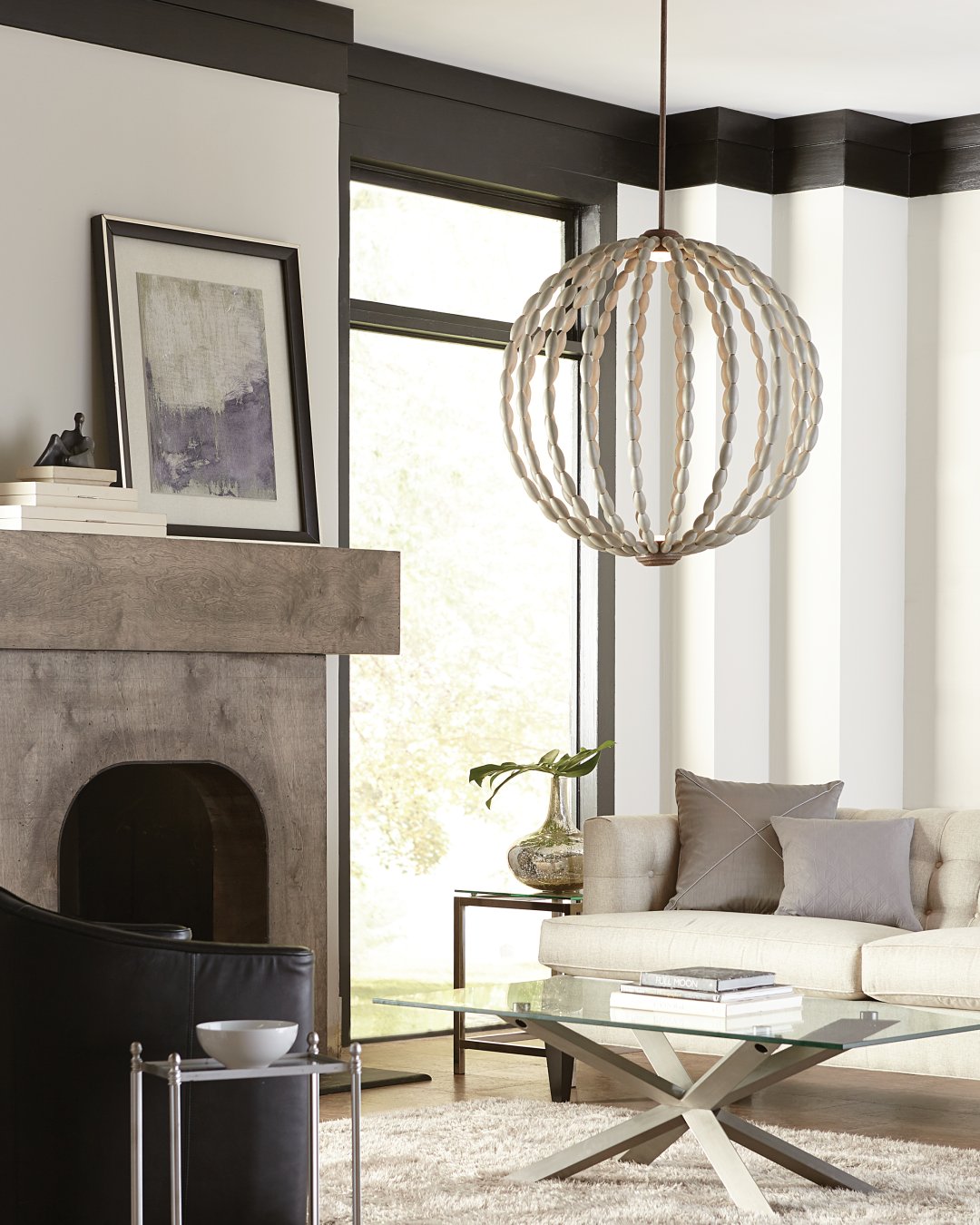 Meanwhile, an everyday contemporary living room gets a dose of beach chic with the mixed materials of the Orren LED Pendant Light. Made of unique driftwood grey wood beads strung on a contrasting weathered iron frame, it demonstrates how two completely different textures on one lighting fixture can work well when thoughtfully put together.
Contrasting Finishes
Even if you go with a single material, you can still achieve a mixed, modern look. Consider clearly defined, contrasting color finishes in your lighting. Something with a pop of bright color can make a flat room seem more dimensional.
This foyer would look somewhat plain if not for the Milo Pendant Lights by LBL Lighting. They invigorate the room with a clean white finish outside, which is juxtaposed with the bright orange finish inside. They also accentuate the artwork and bowl on the credenza below.
Dual-Texture Metals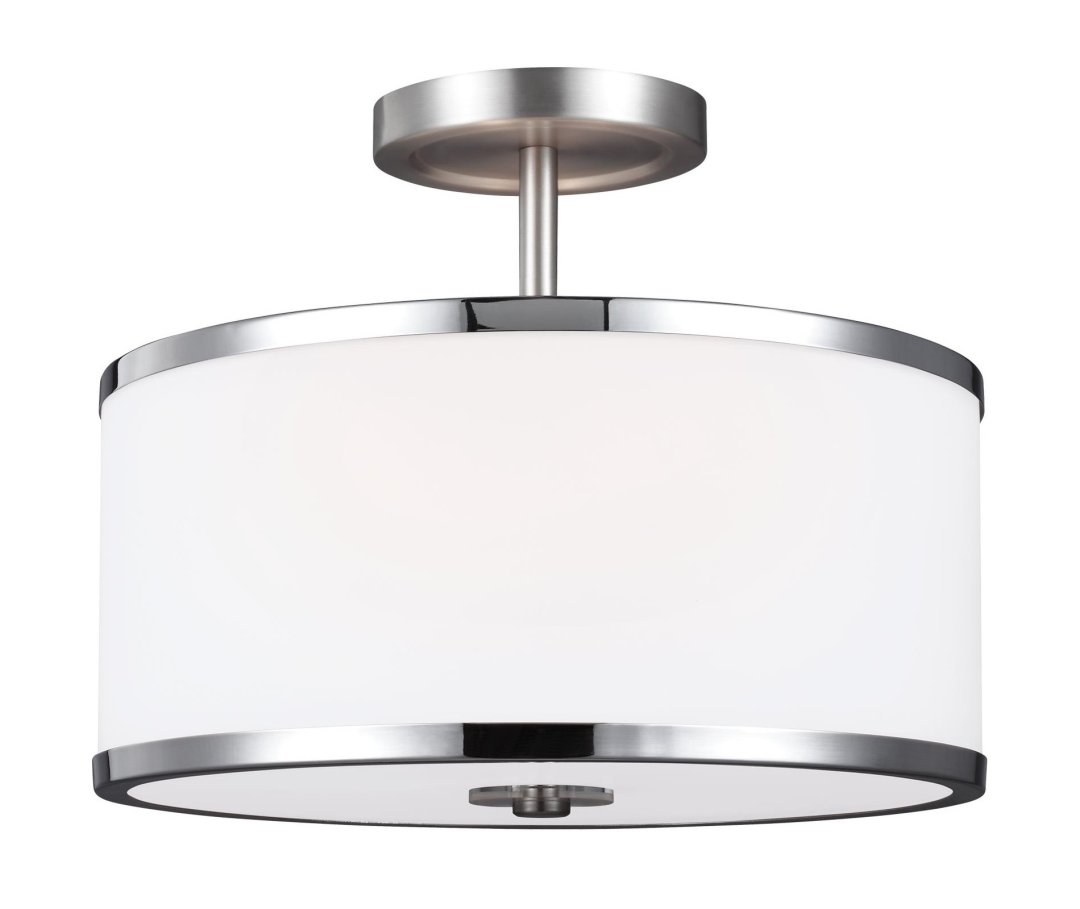 One of the biggest trends in lighting is using dual-texture finishes (two finishes that have similar tones but contrasting textures). As an example, the Feiss Prospect Park Collection features a rich, dual finish of smooth Satin Nickel with shiny Chrome accents. This semi-flush ceiling light would work well in spaces of the home where a simple, yet still bold, look is needed—whether it be the bedroom, bathroom, kitchen or hallway.
Overall Design Versatility
Lighting is increasingly becoming one of the most important elements when planning a room's décor. The latest trend of mixing materials and finishes offers you yet another layer of overall lighting design versatility to work with—further opening the door to helping you achieve just the sophisticated, personalized look you desire.
Team Y
Each YLighting article is backed by the authority of the highest rated service team in the industry. Our design experts are ALA-certified (American Lighting Association) and have an average of 10+ years in the interior design, architectural lighting and home renovation industry. Chat on-line or give us a call toll-free.