How To's
How to Choose a Dining Table: Shape, Size and More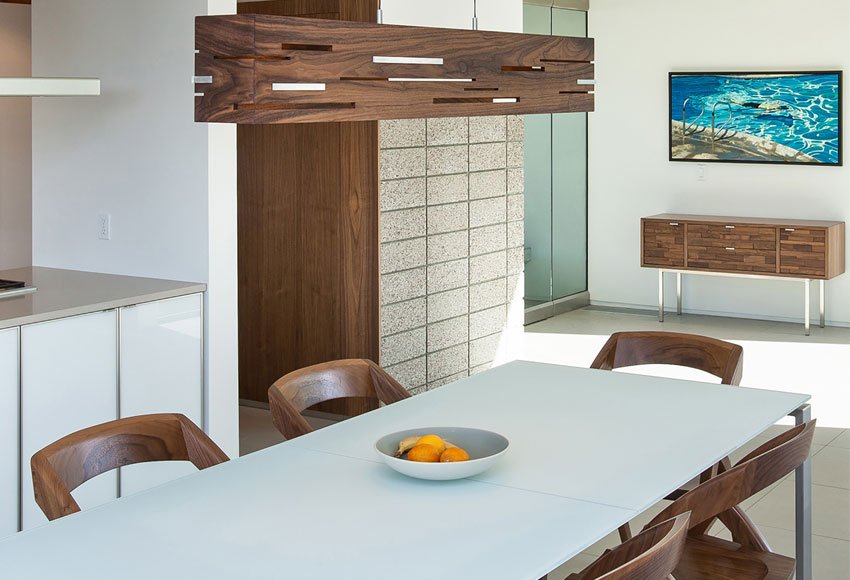 Whether you've got a formal rectangular dining room, or you're carving out some transitional space between an open concept kitchen and family room, finding the right dining room to bring the space together is key. The dining table is very often the focal point of the room where you gather with your family and friends, so not only do you want to make sure it's a comfortable fit for the space, you'll want it to fit your aesthetic and enhance the design of your home. There are a lot of shapes and sizes to choose from, so let's explore the steps to choosing the right dining table to help narrow down one that's right for you, including:
Consider Your Dining Wants and Needs
In many homes, the dining table is the gathering place—the spot we literally and figuratively come together during busy days, celebrations, hosting and more. Carefully choosing the stage on which all of this will all play out belongs at the top of your list.
Assess the Space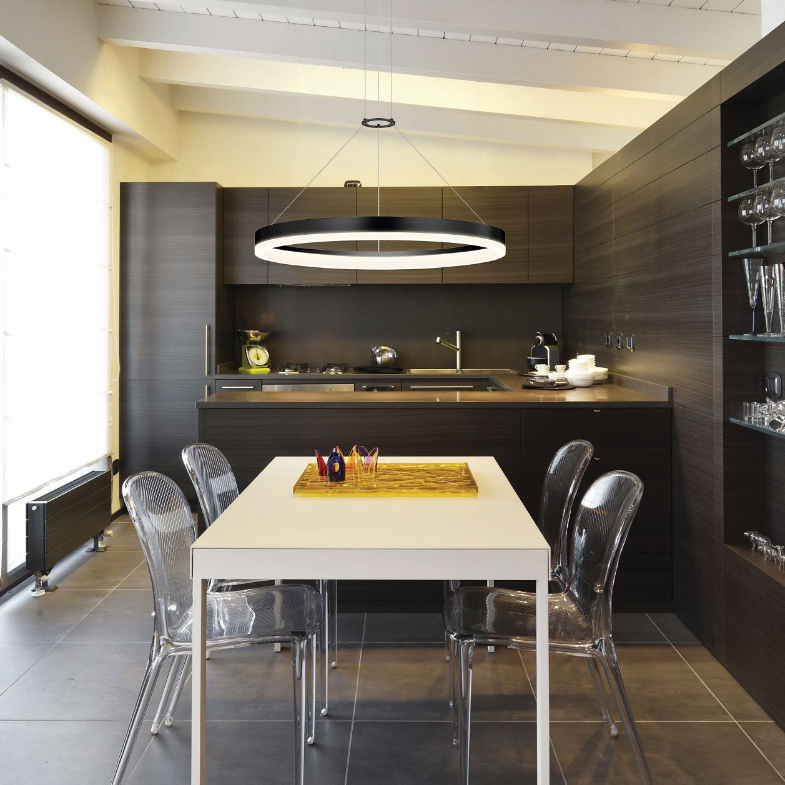 Your first step in the quest for the perfect dining table, is to consider the room it will go in. Is this for a formal dining room you use for hosting dinner parties and during the holidays, or will this be in your everyday setting for homework, crafts, and most meals? For an everyday-use kind of table, one that is low maintenance but high style may be your best bet. Make sure that whatever you decide on, you're leaving enough room surrounding the table to comfortably walk around and get in and out of the seats.
Materially Speaking
When selecting which material is best for you, how and when it is used is key, yet again. Wood tables offer the warmth and comfort for daily use and won't show regular wear and fingerprints easily. Similarly, concrete, bamboo and marble are hardy without skimping on style.
If you're okay with something a bit higher maintenance that will be used less often, sleek modern materials such as glass and MDF may be for you.
Select Your Style
This may be the hardest part, once you know the size and material you're looking for. From traditional and modern to a conversation starter—your dining room table can do as much or as little as you want it to. Keep it classic with an all-wood option or get loud and choose something that will set the bar for style in your dining room. Paired with the perfect chairs, your dining table should be a reflection of your lifestyle at its best.
Choosing the Right Dining Table Shape
Rectangular Dining Tables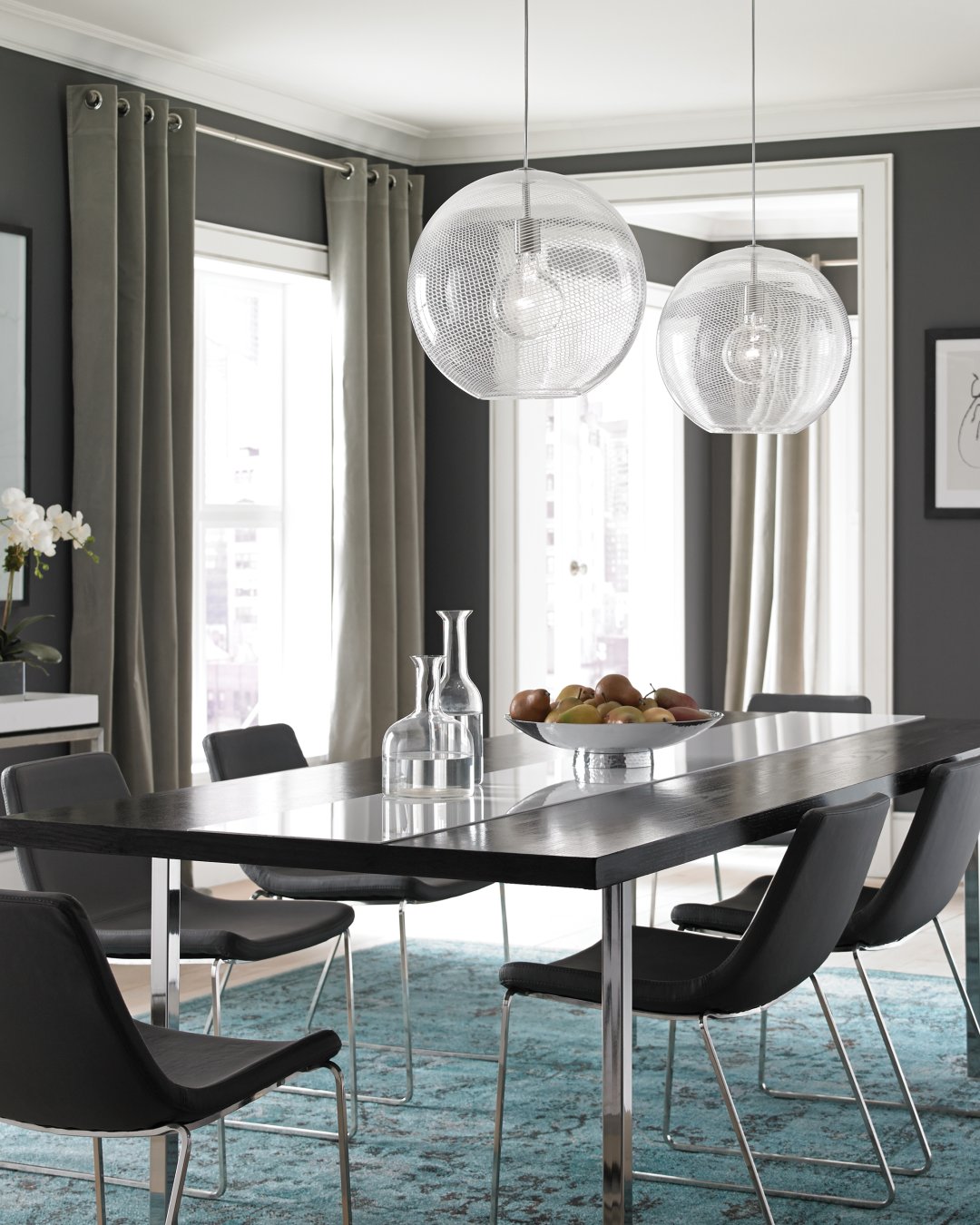 Definitely the most common shape (because most dining rooms are rectangular), rectangular dining tables are great because they can seat a large number of guests for large-scale entertaining. Their linear shape also allows for ample room to walk around the table. Ideally, rectangular tables should be 36" to 42" across to ensure enough room for place settings on both sides of the table. Keep in mind that this shape table, especially once you factor in the chairs, can be too big for tight spaces, but that doesn't mean you can't make it work. Simply use long benches instead of chairs, which allow you to push them under the table when not in use to create more space.
Square Dining Tables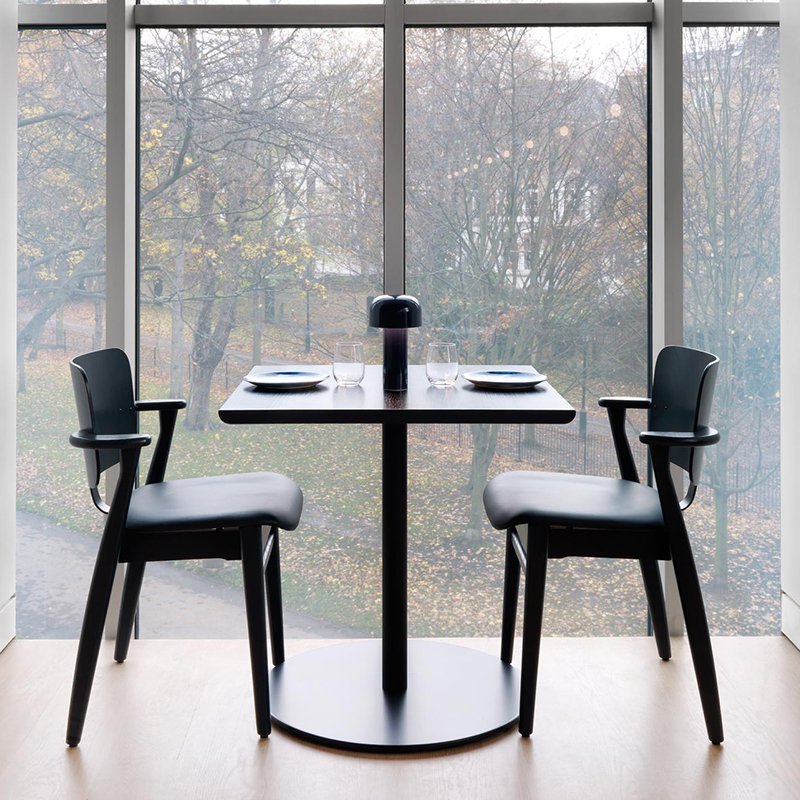 Got a square-shaped dining room? Then you need a square-shaped table. Why? Because they just look right together. Beyond that, this shape dining table works great if you're only seating a group of four or less people. If you'll be having more guests at some point, opt for a table that you can expand with extensions. Also keep in mind that you can always combine two or more square tables to create more space. One of the great benefits of this shape table is the intimacy it provides, placing everyone at the table within close, conversational distance of each other.
Round Dining Tables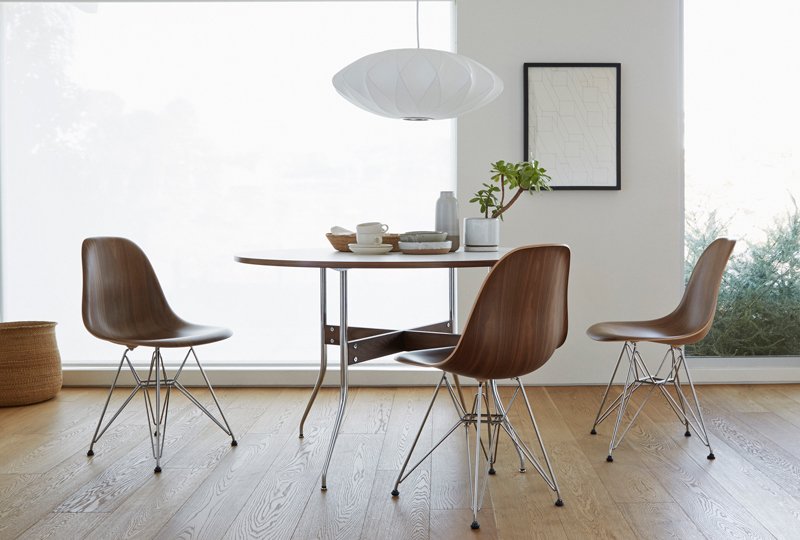 Looking for the most versatility available in a dining table? Look no further than a round one. Like the square table, round dining room tables are great for small gatherings and look good in any shaped room. Plus, round tables have two unique traits: they allow everyone at the table to see and easily converse with everyone else, and they feel casual because there is no head of the table. Round tables are not ideal for large groups, unless you have a large round table – and keep in mind that large round tables can make people at the table feel far away from each other. The good news is that smaller round tables come in models that can be expanded with an extension.
Oval Dining Tables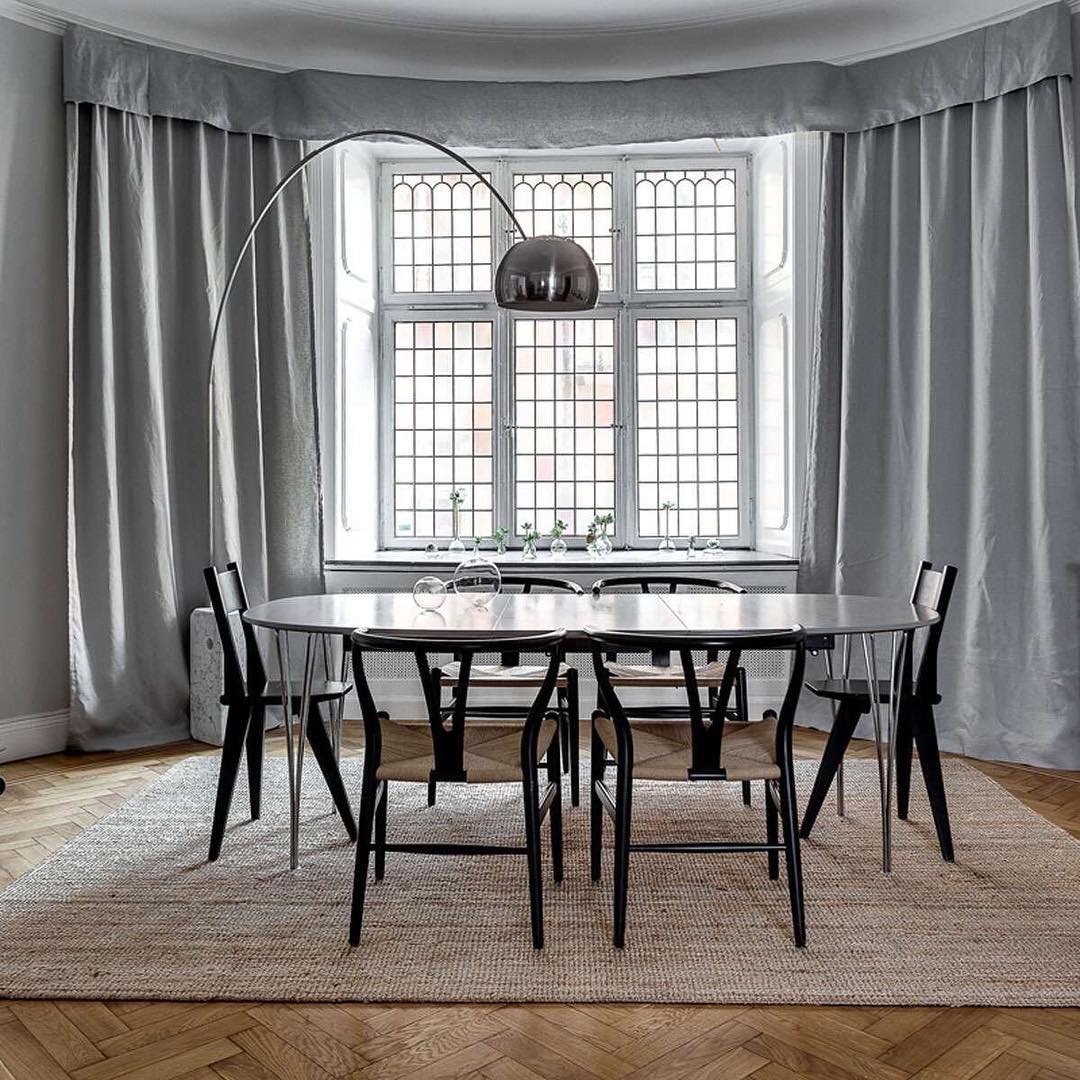 Oval dining tables excel at one thing in particular: they create unique visual interest. While they have similarities to rectangular dining tables in many aspects, their rounded corners create the illusion that they occupy less space. The curves also help to counter angular lines on other design elements within the room. Like a round table, oval tables create intimacy and flexibility. Your best bet is to use them when you need to seat several people at once in a smaller size room.
Choosing the Right Dining Table Size
How many people can comfortably fit at a table depends on the shape as well. Here's a reference to help you decide what size dining table you need, once you've settled on the shape:
| | | |
| --- | --- | --- |
| Size (Diameter): | Oval & Rectangular Will Comfortably Seat: | Round & Square Will Comfortably Seat: |
| 4 feet (48 inches) | 4 people | 4 people |
| 5 feet (60 inches) | 6 people | 6 people |
| 6 feet (72 inches) | 6 people | 6 people |
| 8 feet (96 inches) | 8 people | Not a typical size |
| 10 feet (120 inches) | 10 people | Not a typical size |
Keep in mind that each person needs about 2 feet of eating space and your table needs to be at least 36 inches wide to allow enough space for food and place settings.
Extension Tables
You may not need a large table right now, but if your family is growing and you occasionally like to break bread with a larger crowd, an extension table with a self-storing leaf is the answer. The only word of caution here is that you measure when the extension leaf is in the table – that way you'll know it still fits in your dining room.
Table-to-Wall Clearance
When deciding on your table dimensions and size, it's important to measure table-to-wall space. You'll want to leave enough space for diners to get in and out of their seats easily. The rule of thumb is to leave 42-48 inches between the table and walls. If you have a buffet or hutch in the dining room, the same rule applies but instead of measuring from the wall you'll want to measure from the front edge of the buffet to the dining room table.
Just like sitting at a dining table, shopping for a dining table is an intimate experience. Think about some of your best dining experiences and see if that taps into something you want to see in your own dining space—for example, a round table to enable whole-table conversation, or an extendable table that lets you subscribe to a the-more-the-merrier ethos. Creating that same satisfaction with your at-home dining table will have you looking forward to every meal that happens at it.
Back to Dining Room Ideas
For more modern dining room ideas, follow our favorites on Pinterest:
Sarah Schaale
Sarah is a Brand Marketing Manager for YDesign Group brands. A writer and editor at heart, she loves storytelling in all its forms and is a copious consumer of the Internet (for better or worse). In design, she finds inspiration in simplicity, warmth and all things Danish.