Pinecone. Artichoke. Icon. Whatever you call it, the design first known as the PH Kogle (Danish for pinecone) and worldwide today as the PH Artichoke was an instant hit when Danish powerhouse Poul Henningsen designed it in 1958.
In Copenhagen, the Langelinie area lies along the Øresund shoreline near the famed statue of The Little Mermaid, one of the city's most visited sites. The first Langelinie Pavillionen building from 1885 was demolished to make way for the second in 1902, which was in turn destroyed by the Nazis during the occupation of Denmark during WWII. The most recent construction is a fine example of mid-century modernism reopened as a restaurant along the marina in 1958, and architects Eva and Niels Koppel tapped Poul Henningsen to design the lights that would be featured prominently in the dining rooms. Years back, these original Artichokes were cut from the ceiling in a midnight heist, but most of them have since been recovered and reinstalled. It seems even bad guys have a good eye for design.

2018 marks the 60th anniversary of some of Henningsen's most famous works, including the Artichoke. Like his other famous works (among them the PH 5 and PH Snowball, also celebrating their 60th anniversary this year), the Artichoke light was designed to be utterly glare-free with a concealed light source. PH himself engineered his lights to be flattering when illuminated and sculpturally significant even when off. While he abided by the modernist Scandinavian tenet of form following function, he took special care to ensure that those forms were lovely even as they performed their main task.

The Artichoke's shape was based on a thistle flower–indeed, artichokes are in the thistle family. Each leaf is hung by hand from one of 12 chrome arches in six rows, for a total of 72 leaves per light. The same care and attention to detail that Henningsen put into the design and engineering still goes into each lamp's production. Even installation is expertly performed with Louis Poulsen's "man in the box" program (available for the glass version), wherein a Danish installer accompanies the lamp and installs it in your home–a luxury service, to be sure, but who wouldn't want a mail-order Dane on their doorstep bearing such a gift?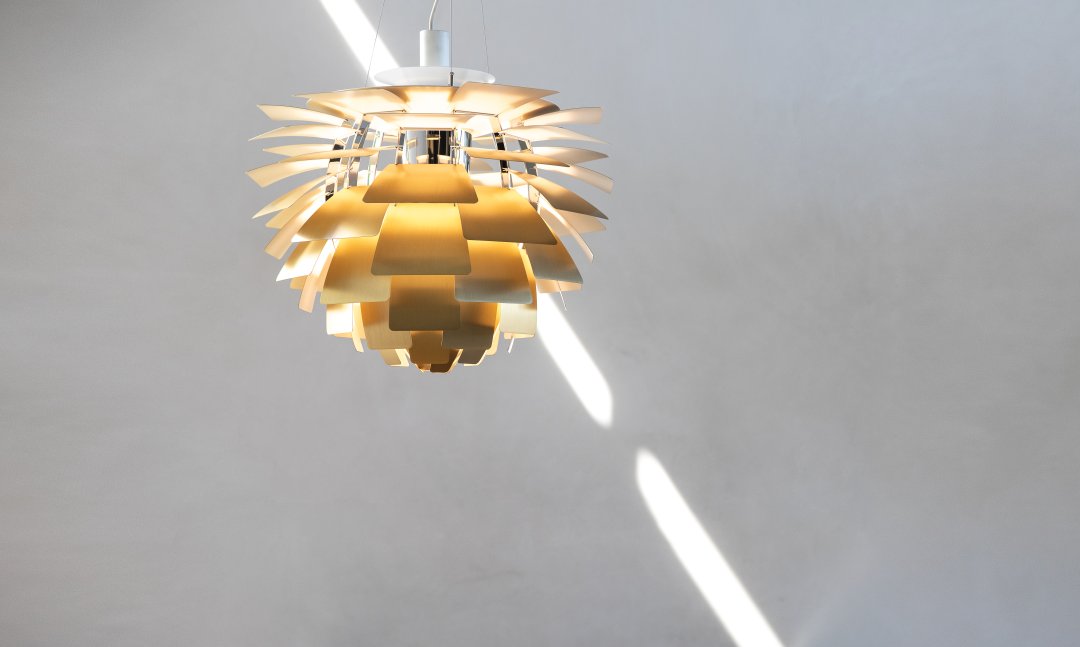 The original PH Artichoke was copper; iterations in polished steel, white paint, and white glass followed. To celebrate this year's 60th anniversary the Artichoke will be produced in brushed brass, which was previously only available as a special custom order. The limited anniversary edition will feature Poul Henningsen's signature, anniversary years, and a unique edition number, all engraved on one of the leaves. Starting in 2019, the engraving will no longer be produced, although the brushed brass finish will still be in production.
The brushed finish is a warm and welcome contrast to the glossy polish of previous choices–dare we call it hyggeligt? Rasmus Markholt, the product and design director for Louis Poulsen, had this to say about the anniversary edition: "There is a warmth and tactility to the finish that we think will make it a very welcome addition to private spaces, where the PH Artichoke can show its softer side." We agree, as brass continues to see its popularity rise in interior design circles. The satiny brushed finish keeps this metallic tone elegant, and the warm glow the Artichoke provides when lit is doubly beautiful reflected among its golden leaves.
Poul Henningsen's iconic designs are perennial favorites; staying in vogue for six decades isn't an easy feat. But the Artichoke's longevity is surpassed by its desirability: From architects to thieves to you (and me), everyone wants a PH lamp.
Kelsey Kittle
When she's not polishing up promotions as a Web Content Specialist, Kelsey is practicing how to properly pronounce Danish, if only to be able to say "home is where the 'hygge' is." Aside from Scandinavian design, she spends a lot of time thinking about organic gardening, mini farms, honey bees and England.