Introducing Masters of Design, a collection that highlights the most iconic designs from the most influential figures in design. Embodying innovation, originality and a keen sense of function, this collection features pieces created by the most renowned names in the industry. From the heart of Italian design to American Mid-Century and today's modern Masters, these are the pieces that define design.
Italian Masters of Design
Italy has long been looked to when it comes to good taste and style. Whether it's food, cars or fashion, Italian designs exemplify a bold and inventive character combined with the dedicated craftsmanship that yields iconic results. From the designs of the Castiglioni Brothers to iconic brands like Artemide, Oluce and Alessi, these pieces demonstrate the masterful design that is distinctively Italian.
The Snoopy Table Lamp
by Achille and Pier Giacomo Castiglioni from FLOS
Atollo Table Lamp
by Vico Magistretti from Oluce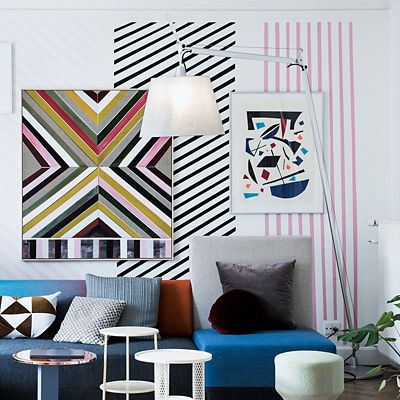 Tolomeo Maxi Floor Lamp
by Giancarlo Fassina, Michele De Lucchi from Artemide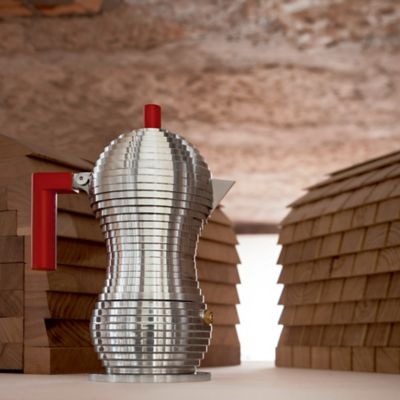 Pulcina Espresso Maker
by Michele De Lucchi from Alessi
American Mid-Century Masters
American Mid-Century Modern Masters brought an awareness of the sculptural potential of furniture design. Moving away from the rigid, structural look of the Bauhaus movement, designers like Charles + Ray Eames, George Nelson, Florence Knoll and Eero Saarinen utilized new technology and unexpected materials to create the slender curves and graceful lines that make their pieces the enduring icons they are today.
Eames Lounge Chair with Ottoman
by Charles & Ray Eames from Herman Miller
Nelson Saucer Bubble Pendant Light
by George Nelson from Nelson Bubble Lamps
Florence Knoll Oval Table Desk
by Florence Knoll from Knoll
Saarinen Womb Chair
by Eero Saarinen from Knoll
Masters of Ultra-Modern Design
Unconventional and unapologetic, Ultra-Modern Design is known to cross boundaries and subvert expectations. Pieces from Tom Dixon, Ingo Maurer, Philippe Starck and Terzani demonstrate the experimental side of design while never losing sight of an object's purpose. These pieces from the Masters of Ultra-Modern Design tell the story of design in their own way.
Louis Ghost Chair
by Philippe Starck from Kartell
Birds Birds Birds Chandelier
by Ingo Maurer
Modern Studio Masters
While established in recent years, modern studios like RBW, Roll & Hill, ANDLight and Cerno are creating pieces that are already iconic in their own right. From using innovative LED technology and sleek, expressive lines paired with environmentally-minded manufacturing processes, these Modern Studio Masters are paving the way for the future of design.
Scandinavian Design Masters
Scandinavian design is arguably the most beloved contemporary interior style. Distinguished by a defining characteristic of Danish culture, hygge, Scandinavian design emerged during the 1950s and 60s much like Mid-Century Modernism. Bright, sleek and comforting, it was born from an insurgence of new manufacturing processes and the desire to create mass-produced, accessible pieces for modern homes, with designs from Verner Panton, Alvar Aalto, Arne Jacobsen and Poul Henningsen most notably leaving indelible marks on the famous movement.
Team Y
Each YLighting article is backed by the authority of the highest rated service team in the industry. Our design experts are ALA-certified (American Lighting Association) and have an average of 10+ years in the interior design, architectural lighting and home renovation industry. Chat on-line or give us a call toll-free.