Modern patio lighting will transform the way you use your outdoor space. A bold, eye-catching chandelier will make a serious impression in an outdoor room, while fun, portable outdoor lights can take a party to any corner of your backyard. Whether you want to light up the night sky or add some decorative appeal to your covered outdoor patio, there is an outdoor lighting fixture to meet every taste and style.
Here are some of our top ideas to add some illumination and personality to your patio.
Rethink Lighting

Empty LED Outdoor Seat by Vibia
Patio lighting can be functional in more ways than you think. Some outdoor lighting can serve as a modern sculpture, a seating arrangement, and light fixture all in one. Look for patio lighting that you can incorporate a little extra utility into your space.
Consider Outdoor Pendants

Standard Outdoor Pendant by Troy RLM
The right pendant lighting can set your space for the greatest of outdoor parties. Outdoor pendant lights suspended from an overhang will direct concentrated light above outdoor dining or seating areas. Consider finishes that will mesh well with the surroundings, such as a galvanized metal finish that contrasts beautifully against dark wood.
The Lantern of Tomorrow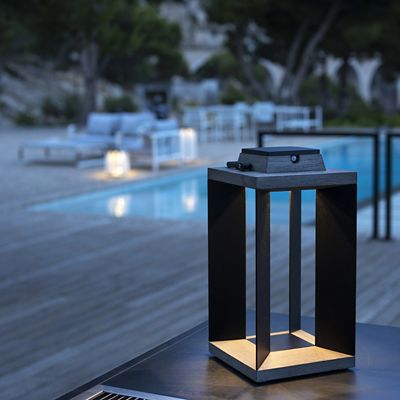 Blade Solar LED Lantern by Les Jardins
Looking for the lantern but not the flame? This may look like an ordinary lantern, but this lamp has a solar chargeable LED and includes two modes of power that either last all day or turn on when it's dark outside.
Easy Ambiance

Mooon Lamp by Fermob
Eating outdoors can be quick and easy with a few lamps. You don't need ceiling lights or bulky light sources to make your outdoor space more inviting. Simply add a few outdoor table lamps to your patio table to make your dining experience more intimate and atmospheric.
Simple Stands Out

Divergence Outdoor Pendant Light by Hubbardton Forge
Sometimes it's simple design that makes the greatest impression. An outdoor chandelier with sharp angles and geometric silhouette will add visual texture to a neutral space. Metals like aluminum can also provide an industrial, machine-age vibe while blending in with modern furniture.
In Harmony

Carsoon Outdoor Chandelier by Hinkley Lighting
Tie a seating arrangement together with similar-in-style outdoor pendants and ceiling lights, which are great for providing ambient light. Matching outdoor wall lights will add to the atmosphere and help layer the lighting with additional ambient or concentrated illumination. Outdoor lights with glass cylinders can give off the impression of an intimate candlelit setting.
Light and Airy

Torus LED Pendant Light by Sonneman Lighting
Use your outdoor lighting to enhance the open-air feel of your patio by choosing a minimalistic chandelier or pendant. Arrange potted plants and succulents around your patio to add to the cozy ambiance, which will look radiant under the glow of dimmed light at night.
Unleash Your Inner Artist

Amigo LED Medium Indoor Outdoor Ceiling Light by Santa & Cole
Don't be afraid to use outdoor lighting to add an artful vibe to your patio or balcony. A visually striking wall sconce can serve as wall art, especially when juxtaposed to other pieces that stand out in the soft light.
Entertaining Made Easy

String Lights with Globe Lamps by Bulbrite
One of the easiest and most "now" ways to enhance an outdoor picnic or barbecue area is to hang some outdoor string lights. A string of mini bulbs can add a French-cafe-at-sunset feel to any outdoor space. Best of all, string lights are easy to install and move, whether used on a patio, in a gazebo, or around a pool.
Take Indoors, Outdoors

Drylight 6 Light LED Outdoor Chandelier by Masiero
Outdoor chandeliers are a perfect way to add a sense of radiance and glamour to an outdoor dining area. An outdoor chandelier that you might typically see in an interior space can deliver a beautiful contrast to a more rugged outdoor space.
Glow in the Dark

Solar Outdoor Floor Lamp by Foscarini
Make the setting more intimate with outdoor light fixtures that will emit a soft, warm glow. You can easily incorporate floor lamps in the design of your outdoor porch or patio to delicately brighten up garden areas or potted plants.
Lighten Up

Amphora Floor Lamp by Bover
Create visual symmetry in an outdoor space with sets of lamps that can be used in different areas. Opt for floor lamps with a striking shape that puts out bright light to add form and functionality to the space without overdoing it. This is especially useful for rooftop gardens or urban balconies where you may want to section off spaces without adding more architectural elements.
One with Nature

Reeds Outdoor LED Floor Lamp by Artemide
If you really want to add a design element to your outdoor pool and patio, choose outdoor floor lamps that blend in with natural elements. Choose outdoor lamps that capture natural, authentic forms, like designs reminiscent of reed stems, plants, or flowers. The fluidity in aesthetic here can especially complement water features like a pool, pond or fountain.
Make it Match

Aria Outdoor Pendant Light by Hinkley Lighting
If your space has different lighting needs, choose outdoor pendants, wall lights and even path lights that are part of the same family or collection. The matching styles will help tie a space together and let your design be more bold in other areas without feeling over the top.
Stay Neutral

Ebb Outdoor Wall Light by Tech Lighting
If your patio features stonework, look for a complementary finish in your light fixtures. For lighter stone finishes, look to stainless steel or lighter metal finishes. For darker stone, a bronze or black fixture will subtly blend in and allow the light to play off of the textured areas.
For All Seasons

Java LED Outdoor Ceiling Fan by Minka Aire
Make the most of your outdoor space by ensuring it can be used year-round, from sweltering heat to chillier evenings. Outdoor lights and outdoor ceiling fans keep air moving if spaces get stuffy, and an outdoor fireplace keeps it cozy when the temperature drops.
Let the Light Play

Image via
Layering light in your outdoor space creates beautiful highlights and shadows among architectural elements and landscaping. In a space with many different textures and finishes like wood, concrete, and tile, lighting can subtly highlight each of these surfaces to create a dynamic look throughout your yard.
Stress-Free Lighting

Image via
If you have a covered patio or balcony, you don't need to add decorative fixtures to get the right illumination. Recessed lighting can also be used outdoors, allowing for minimal visual "clutter" but ample illumination for all the ways you use your outdoor room.
Be Playful

Outdoor Gregg Pendant by Foscarini | Image via @pheintz
Just because it's an outdoor space, doesn't mean it can't feel playful and fun, if that's the way your style leans. Colorful pillows, wall art and lighting in unique shapes all bring a dose of whimsy to this patio, without sacrificing functionality or taste.
When Bigger is Better

Original 1227 Giant Outdoor Floor Lamp by Anglepoise
For those who want to read, work, or relax outside regularly, you're going to need a big and bright light. Large outdoor floor lamps like this one can provide a spotlight-like beam of light over seating and dining arrangements. Dramatic light fixtures like these typically work well with more minimalist furniture, allowing the fixture to really be the star of the show.
Whether you're looking for a highly decorative piece or energy-efficient LED lighting, take a look at more LED outdoor lighting options to get some inspiration for your patio. Make sure the lighting fixtures you select are damp-rated or waterproof so your outdoor patio lighting will be able to withstand the elements all year round. For more YLighting ideas, see our Outdoor Lighting Ideas. or follow our favorite outdoor lighting ideas on Pinterest.
Team Y
Each YLighting article is backed by the authority of the highest rated service team in the industry. Our design experts are ALA-certified (American Lighting Association) and have an average of 10+ years in the interior design, architectural lighting and home renovation industry. Chat on-line or give us a call toll-free.