Narrow bathrooms, oversized rooms, and tricky nooks and corners in your home all have one thing in common: they can be rectified with the right floor covering. Identifying and solving spatial complexities of the home can be oddly satisfying, so we're here to help you get started on finding the best floor covering for that awkward space.
Pathways
Furniture layouts naturally create boundaries around designated areas and pathways throughout the home. But in the case that the space is exceptionally large, these boundaries and pathways may not exist. Have no worries, the Mangas Collection of modular rugs by Gan Rugs form beautiful geometric pathways of wool and add character to large open spaces.
Overflow of Furniture
Just when you thought you ran out of space to place your furniture, the corners and nooks of the room look even more attractive to use. These tricky areas can be a perfect solution to your overflow of furniture. Better yet, these corners are forgiving to an abstract shaped cowhide rug.
Open Concept Kitchen
From a popular architectural option to a steady trend, open concept spaces break down architectural barriers to encourage social living throughout the home. Interior design touches like round rugs create seating designations in the open concept space, between the kitchen and dining area without creating odd pockets of space around the carpet. Such rugs create a soft perimeter around the dining area that compliment the complex wall structure around it.
Large Living Room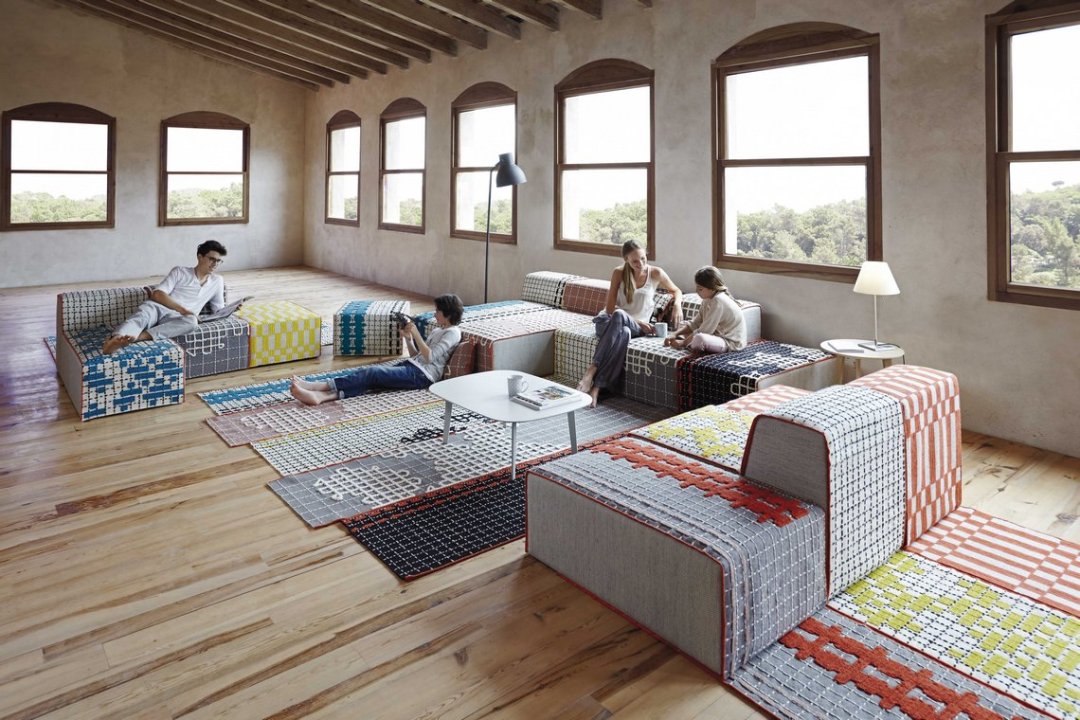 Another space that benefits from designated areas for socializing, lounging, or tasking is a large living room. This can be accomplished by creating a layout of mixed-match rugs within close proximity of each other throughout the living room. When done well, the rugs add a great visual appeal and functionality.
Narrow Bathroom
A narrow bathrooms best asset is simple decor. You can imagine how congested the bathroom could get if you furnished and decorated it with all the items you could think of, but here we can do without the clutter. A large trendy modern rug is a great substitute for a few smaller ones and it offers an element of airiness to the bathroom.
Planning out the interior design of each room with an ideal floor covering is an easy and quick way to transform the room without having to re-arrange furniture. The right rug can create establish spatial organization in an oversized room or establish an element of airiness in a small cluttered room.
Complete your room's design with the right lighting for the space. Wether you need ambient, task, or task lighting, YLighting offers fixures that are both functional and design oriented.
For ceiling lighting ideas, follow our favorites on Pinterest:
Team Y
Team Y is a dedicated group of design devotees. We love everything that has to do with modern design, from products like lighting, furniture and decor all the way to interior design, architecture and city planning. What inspired the design? How does it work? What does it mean? We want to know. And once we know, we are constantly inspired to share what we've discovered with others who love design as well. That's Y.