One surefire way to make visitors to your home feel welcome is by, quite literally, lighting the way. Hardscape lighting (meaning the "hard" parts of your landscape: paths, steps, walls and architectural features) not only adds a visual element to your outdoor space, but allows family and guests to safely find their way to the front door and other areas of your property. The exterior of our homes are full of things like pathways, driveways and things that serve as potential hazards, like stairs, drop-offs and swimming pools. Shining a light on these areas makes them easier to access and can prevent injury.
Here's a breakdown of the different types of wayfinding lighting options and how each can benefit your home's exterior environment.
Path Lights and Bollards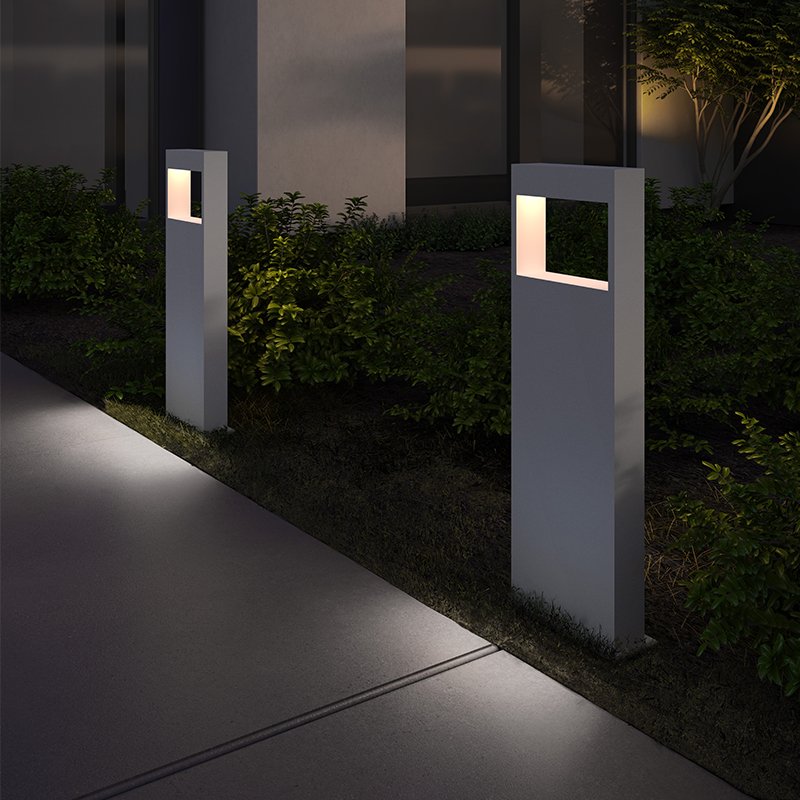 The most common type of landscape lighting, path lights are posts with a built-in light that's capped with a diffuser. Typically, you'll find these accent lights lining and lighting up a walkway, or framing an area or unique feature of the exterior environment, like a pond or driveway. The best pathway lighting shines a gentle glow at foot level, providing direction without unwanted glare. Bollard lights – the heavy-duty cousin of the path light – have a 360-degree light spread and can illuminate walkways and gardens/foliage simultaneously. While they're a brighter source of light and can cause glare, using low-wattage bulbs can minimize any unwanted effects.
Post Lamps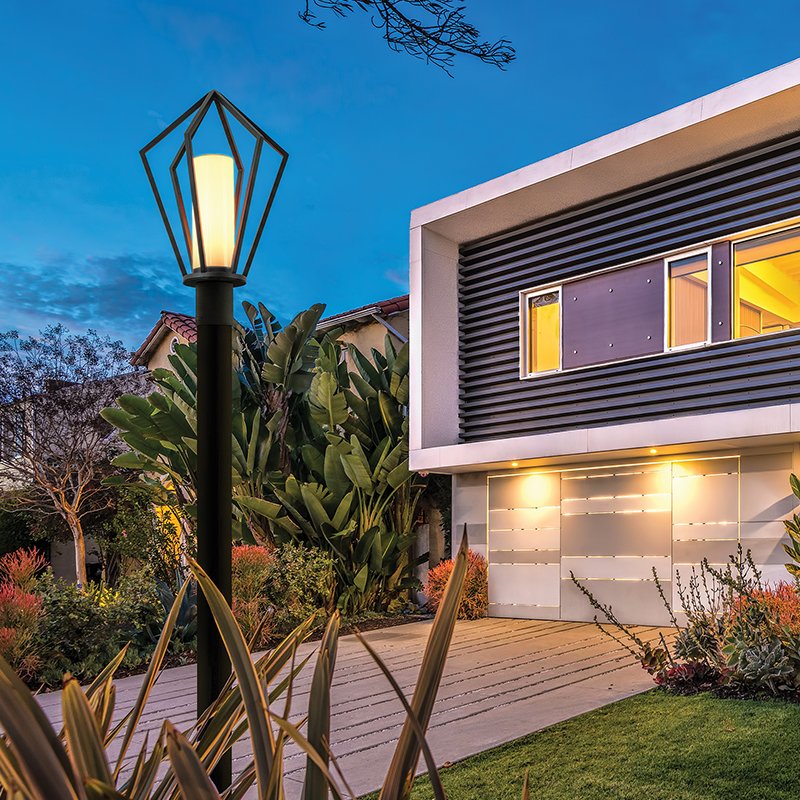 Looking for a more architectural-style lighting element for your home's exterior? Post lamps are designed to be installed on a post or other type of structure, like a decorative brick column. Their purpose is to shine a wayfinding and beautiful spectrum of light around a large area and they're commonly used around decks and near entries. Post lamps are typically stylized, be it traditional, contemporary or modern, and make a great embellishment to your exterior environment. They're also great as a land marker for your home: "It's the house with the two big post lamps," you can say to new visitors.
Wall Lights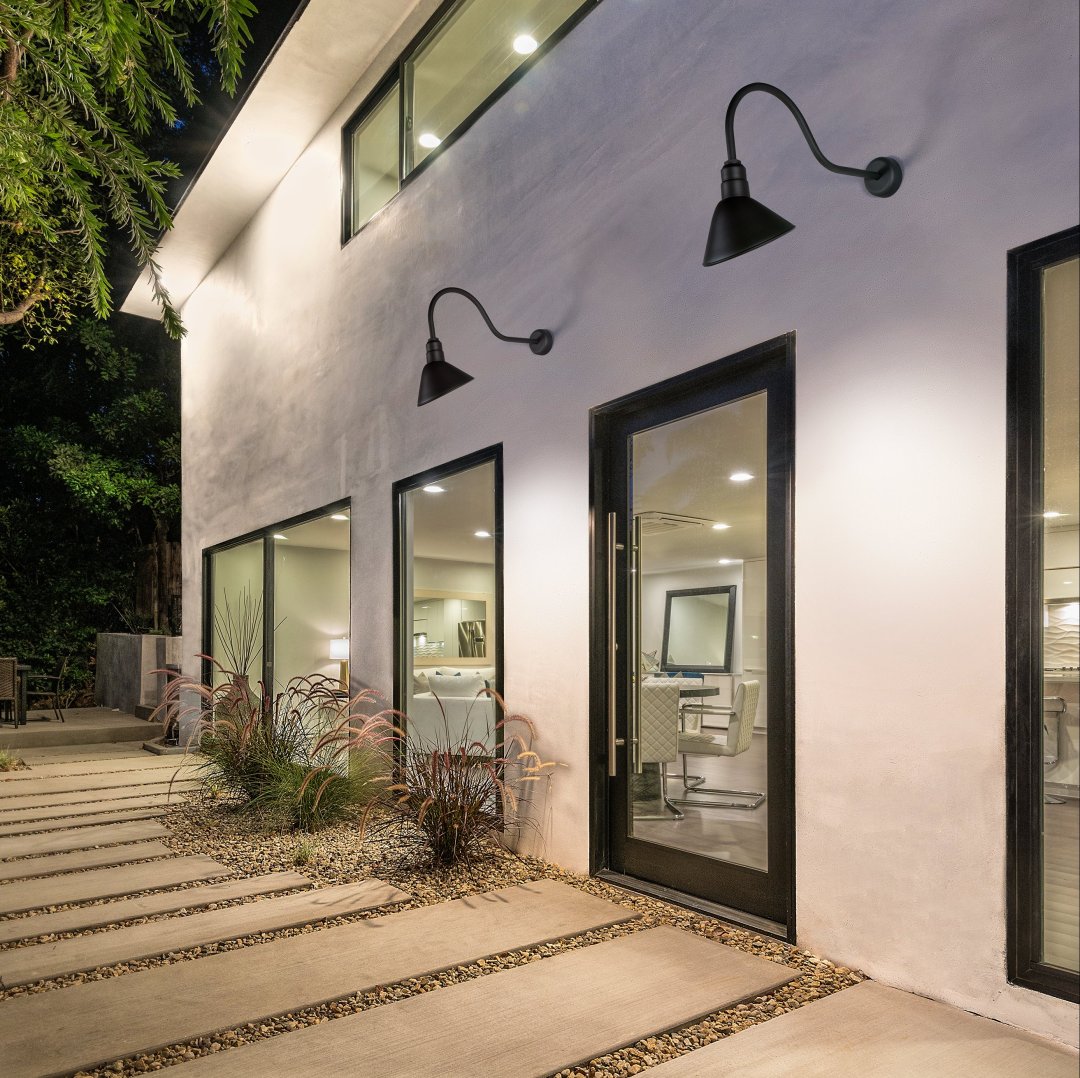 Consider wall lights for a modern and sleek way to add wayfinding light to your landscape. As the chameleons of outdoor lighting, blending into your exterior environment virtually anywhere there's a vertical surface, they're ideal for patios, decks and stairways. With the ability to shine light downwards or sideways, they offer highly functional lighting without being harsh on the eyes. Wall lights also add depth to garden and house walls while providing ambient light for safety and security. This type of lighting is definitely something you want to keep at the forefront of your exterior lighting repertoire.
Spotlights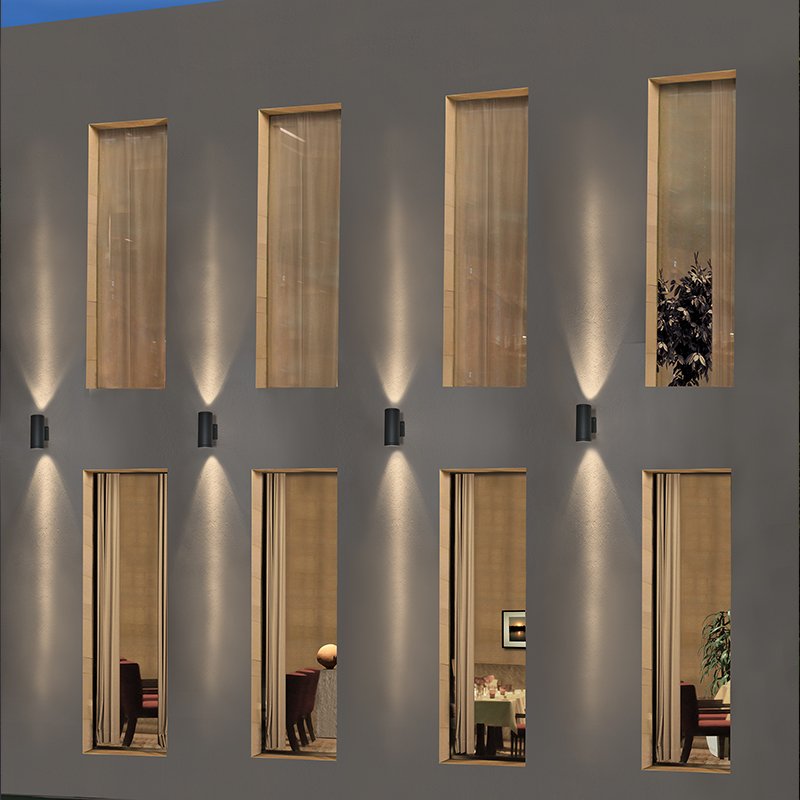 Sometimes you need lighting for ultra-practical reasons, like lighting a path to your door. Other times, you need it more for accent and emphasis. That's where spotlights come in. Originating in the theater world to showcase actors, it turns out that spotlights are also great for shining a light on architectural and landscape features, like a fountains and palm trees. These types of lights are highly effective at creating emphasis because of their narrow beams and really are the backbone of a well-rounded landscape lighting system. All that said, spotlights do support other elements of wayfinding light by lighting up landmarks and creating a greater sense of visual perspective within an exterior environment.
Step Lights
Last but certainly not least, step lights are a low ambient light used to illuminate stairways for improved safety while adding an inviting glow to your space. They can also be used to wash light down stone walls and brighten entertainment areas. There are two types of installation options for step lights: recessed, in which the faceplate is flush against the surface, and surface-mounted, in which the fixture sits on top of the surface. Step lighting has a significant ability to help prevent injury by illuminating the area in front of the steps and the steps themselves. Keep in mind that it's particularly important to look for UL damp or wet location listed step lights, as they will likely be exposed to harsh conditions.
Outdoor lighting is a simple and cost-effective way to add beauty, safety and security to your home. Plus, coming up with the right lighting design for your exterior environment—and hand-selecting just the right fixtures—will reap the same rewards as when you zero in on the right pieces for your exterior rooms. A stunning, newly lit outdoor space awaits you. And, if you need any additional inspiration, take a look at our outdoor lighting ideas.
Team Y
Team Y is a dedicated group of design devotees. We love everything that has to do with modern design, from products like lighting, furniture and decor all the way to interior design, architecture and city planning. What inspired the design? How does it work? What does it mean? We want to know. And once we know, we are constantly inspired to share what we've discovered with others who love design as well. That's Y.