Mid-Century Modern Lighting
Mid-Century Modern
The hallmark of modernism, mid-century modern design is undeniably bold and minimalist, evoking a gorgeous alternate future unrealized.
Why Mid-Century Modern Lighting is Timeless
If you want your home or business to ravish with timeless style, clean lines, and organic form mid-century modern lighting is just what you're looking for. Characterized by the classic appeal from the post-war years of the middle of the 20th century, mid-century modern design is the perfect blend of traditional and contemporary.
By fusing contemporary innovation with inspiration from the decades surrounding the 1950s, when designers experimented with function, color, and shape, mid-century modern design is characterized with playful colors, authentic curves, and geometric shapes.
Beyond just being a celebration of a distinct time period, mid-century modern design relishes in functionality and form with notes of sleek lines and minimalist style. Mid-century modern blends diverse sets of materials and colors to produce enduring creations that will withstand the test of time. Mid-century lighting is the best way to tie your décor together to fit your taste and personality.
The Best of Mid-Century Lighting
There's no better way to get a sense of a style than looking at a few of its most influential brands. As far as mid-century modern lighting goes, there are few better representations of its aesthetic than what is shown through the work of George Nelson Bubble Lamps, Louis Poulson, and Floss.
George Nelson Bubble Lamps takes its name from its signature design, the Bubble Lamp. Originally introduced in 1952, George Nelson created a lamp that became a defining piece of mid-century modern that continues to find its place in homes today.
The Louis Poulson we know today was created when a Danish architect, Poul Henningsen, joined Louis Poulsen – an electrical supply business – and began to innovate and reimagine how lighting could provide both function and decorative art. His designs would lead to the creation of the PH Lamp in 1926 which would become another lighting fixture synonymous with mid-century modern.
Newest of these iconic brands with a birthdate of 1962, FLOS Lighting was created when Achille Castiglioni needed a lamp to provide lighting in the center of his dining room. However, it did not have an electrical outlet and the Arco Floor Lamp was born. The Arco Floor Lamp's heaviest distinction, its 160 pound weight, is found mostly in its marble base.
Mid-Century Modern Lighting For Every Room
There are many different options of mid-century lighting that will work best for your style and your home. If you want to add a classic mid-century modern touch to your space, place mid-century modern pendant lights as a decorative hanging focal point that will illuminate your space with bright, concentrated light. Whether you are looking for an understated piece or a striking lighting fixture, mid-century pendants come in all shapes, sizes, and colors to match your vision for your space. Mid-century modern chandeliers are another fabulous hanging light option to add a sense of beauty and impact to your space. Chandeliers will not only transform the atmosphere of your dining room or entryway, but they will also save valuable space in your home.
With so many amazing options to choose from you are sure to find the best mid-century modern lighting fixtures for your space. Mid-century modern ceiling lights mount to the ceiling to radiate virtually any room from the bedroom to the living room with bright illumination, while glistening with distinct style. If you want to illuminate your walls with charming appeal mid-century wall scones for your hallway, living room, or bedroom are an excellent choice. You might also consider mid-century modern vanity lights, which will charm your bathroom with a minimalist appeal and a classic touch.
If you want to accentuate your mid-century modern furniture with matching style there are a wide variety of mid-century modern floor, table, and desk lamps to choose from. Featuring geometric forms and sleek lines these mid-century modern light fixtures are the perfect addition to elevate the aesthetics of your room to the next level. And if not your home's interior, you can add mid-century outdoor lighting to your home with outdoor wall sconces, ceiling fans and ceiling lights. Whether you need mid-century outdoor wall scones, ceiling lights, or mid-century floor lamps you will be enchanted by their pristine functionality and uncluttered form.
Benefits of Mid-Century Modern Lighting
Mid-century modern lighting will instantly uplift the character of your home, while blending in seamlessly with your contemporary lifestyle. By mixing retro influences and modern style, mid-century lighting can add a finishing touch to match your furnishings and décor. With a throwback to yesteryear, mixed with modern elements, mid-century modern lighting is the perfect solution to transform the aesthetics and appeal of your environment in a unique way.
Show Less
Related Products
Inspired by the shapes of traditional Indian water ...
Description:
Inspired by the shapes of traditional Indian water vessels, the Beat Table Lamp from Tom Dixon offers a fresh take on a traditional lighting product. It is composed of a spun solid brass stem with a hand-beaten brass interior atop ...
The inspiration behind the Bubble Pendant Light comes ...
Description:
The inspiration behind the Bubble Pendant Light comes from deep sea life. Designed with atomic bubbles of warm walnut expand on radical spokes. Each pendant is digitally enhanced with wood-grain and printed on a crisp linen shade. This stunning pendant ...
Winner of the Good Design Award 1950. Grossman ...
Description:
Winner of the Good Design Award 1950. Grossman was highly influenced by European Modernism, which had been imported to the US by influential architects, such as Walter Gropius (founder of the Bauhaus) and Ludwig Mies van der Rohe. Grossman, in ...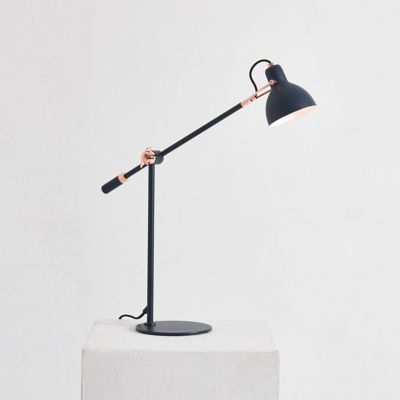 The Laito Gentle Table Lamp offers the refined ...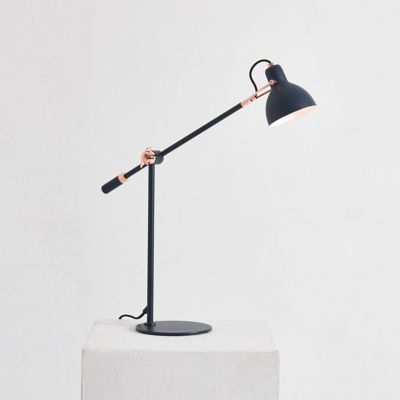 Description:
The Laito Gentle Table Lamp offers the refined feel of a well-dressed modern gentleman, which was its inspiration. Adjustable vertically 90 degrees at the arm and 235 degrees at the head, this fixture offers broad user control of light output. ...
The Lim 360 by Pablo Designs is an ...
Description:
The Lim 360 by Pablo Designs is an inspiring, simple, and functional task lamp built for seamless integration into contemporary interior living spaces. Its L shaped arm discreetly conceals an array of high-powered LEDs under a Polycarbonate lens that seamlessly ...
A Lola Desk Lamp by Visual Comfort is ...
Description:
A Lola Desk Lamp by Visual Comfort is a stunning masterpiece ideally suited for task-oriented spaces. Its single socket accommodates an incandescent bulb to provide proper illumination for reading or taking notes, while a dimmer switch design offers brightness versatility ...