Modern Outdoor Chandeliers | YLighting
Outdoor Chandeliers
root
YLLIG53
null
null
Showing 1 - 24 of 33 Results
Bringing Design Outside with Modern Outdoor Chandeliers
Contemporary light fixtures have evolved over the years and popular interior lighting has inspired outdoor lighting design that's just as stylish and functional. This is certainly the case for exterior chandeliers. Bringing elements of the indoors to outside spaces like entryways, covered patios, and gazebos these eye-catching fixtures make a bold style statement. When it comes to outdoor chandeliers, the options include everything from understated single pendant chandeliers with clean lines to ornate multi-light chandeliers with a traditional feel.
Choosing the Right Outdoor Chandelier
Although outdoor chandeliers draw inspiration from their interior counterparts, these fixtures differ a few key ways. Outdoor chandeliers are designed to withstand the elements, so UL or ETL Listed Damp ratings are a must. So how do you tell which rating will work best for your outdoor space?
By looking at fixture's UL rating, you can choose a chandelier that can stand up to regular exposure to moisture like rain, condensation, and high humidity. For outdoor applications, there are two ratings: UL Listed Damp or UL Listed Wet. UL Listed Damp fixtures should ideally be installed in spaces that do not get direct exposure to moisture, such as indoor pools or saunas, covered porches, alcoves, and entryways. UL Listed Wet lighting is designed to endure frequent contact with water such as rain or snow. Typical installation locations for UL Listed Wet fixtures include open areas like patios, walkways, and gardens.
Lighting type is another key consideration when it comes to picking out the right outdoor ceiling lights for your outdoor space. Most modern outdoor chandeliers for porches utilize eco-friendly LED illumination that provides bright, consistent lighting during daytime, dusk, and night time. Outdoor LED chandeliers feature long-lasting, low-maintenance bulbs, making them the perfect lighting type for outdoor applications.
The Best Outdoor Chandeliers
After the technical details are handled, it's time to focus on aesthetics. The most popular patio chandeliers have a host of features that bring the beauty of contemporary chandeliers to outdoor areas. Made with durable and materials like corrosion-resistant iron, weatherproof molded polyethylene, and lacquered stainless steel modern outdoor chandeliers stand up to years of regular use.
In terms of finishes, there's sure to be something that complements existing outdoor furnishings and fixtures. Top-selling chandeliers are available in subdued neutrals like beige, black, and grey as well as metallic finishes like aged brass, burnished steel, and bronze.
Popular outdoor chandeliers are available in refined single, double, and triple light versions that are perfect for traditional and minimalist outdoor spaces. More ornate outdoor chandeliers feature glass shades and dozens of individual lights for a dazzling effect in ultramodern and contemporary outdoor areas.
Other Considerations
In addition to considering an outdoor fixture's rating and lighting type, the size of an outdoor chandelier is important. The size is important because it impacts the ease or difficulty of installation. As with any overhead lighting, outdoor chandeliers must be properly installed to ensure the safety of residents and guests. The chandelier you choose should be proportional to the intended space and as a general rule, larger outdoor chandeliers should be reserved for larger outdoor areas and will generally require multiple people to complete a safe installation. In some cases, the assistance of a qualified electrician is needed.
Beautiful lighting is the perfect finishing touch to any space – both indoors and outdoors. A stunning outdoor chandelier serves as a beautiful way to light outdoor spaces at night.
Related Products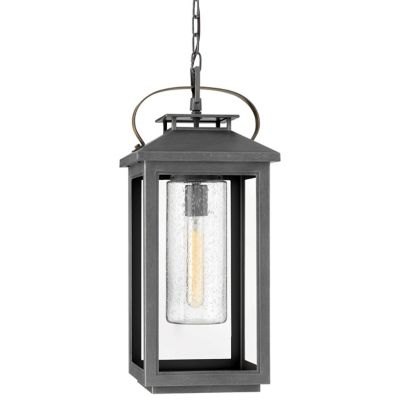 The Atwater Outdoor Pendant Light by Hinkley Lighting ...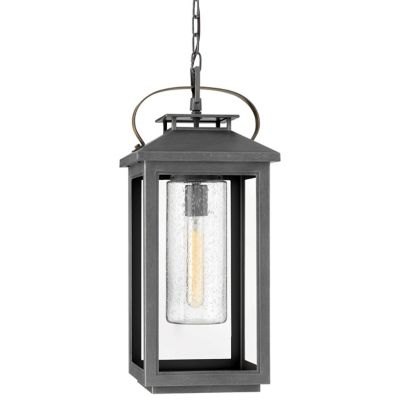 Description:
The Atwater Outdoor Pendant Light by Hinkley Lighting is a beacon of classic elegance with nautical elements. Its lighthouse-inspired lantern has a rooftop profile, handle and brass accents to add coastal charm while enhancing nighttime visibility on porches and patios. ...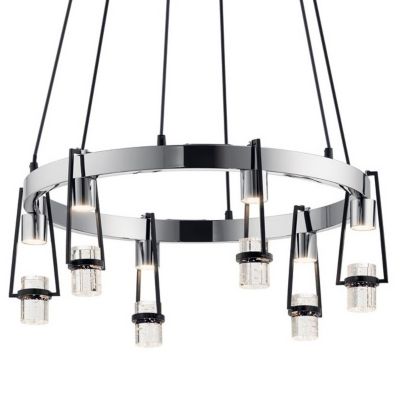 The Ayse LED Chandelier by Elan Lighting gives ...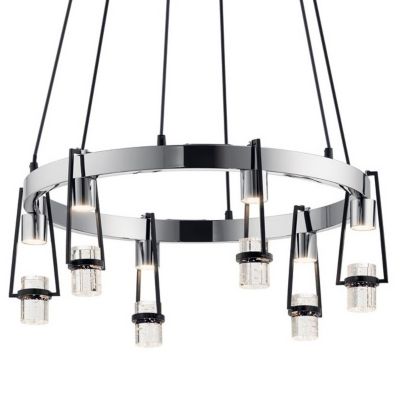 Description:
The Ayse LED Chandelier by Elan Lighting gives contemporary appeal with simple lines and unique, elegant details. Comprised of a robust steel circle which creates both sleekness and sturdy composition, the cylindrical clear crystal accents add a distinct gleaming touch ...
Creating elegant notes of sophisticated light is the ...
Description:
Creating elegant notes of sophisticated light is the contemporary-styled Bonham LED Chandelier from Elan Lighting. Exemplified by its graceful design, the steel constructed piece suspends elegantly from a neat circular canopy. Slim rods accented with short metal details and a ...
The Brazen LED Chandelier is a statement piece ...
Description:
The Brazen LED Chandelier is a statement piece with a dynamic composition. A single support rod descends to a long cylindrical Opal Glass shade, with an arrangement of Extruded Aluminum arms in a finely textured powder-coat finish radiating outward from ...
Part of the Lisa McDennon Collection, the Folio ...
Description:
Part of the Lisa McDennon Collection, the Folio 3-Tier LED Chandelier by Hinkley was inspired by the idea of combining structure with movement. Linear lines in rectangular shapes, a tiered composition and energy efficient LED panels makes this a visually ...
When elegance and modern design reach their peak, ...
Description:
When elegance and modern design reach their peak, the result is the Fusion Laguna Eight Light LED Outdoor Chandelier by Justice Design Group. Contemporary minimalism features prominently in the Metal frame, with the main structure presenting sophisticated geometry with its ...