Pendant Lighting | Modern + Contemporary | Designer | YLighting
Square Pendant Lights
root
YLLIG3
StandardColor|Shape
null
Square |
Square Pendant Lights
Showing 22 - 21 of 21 Results
Related Products
The Ceiling Stem Angle Shade Pendant Light is ...
Description:
The Ceiling Stem Angle Shade Pendant Light is ideal for business sign lighting, as its slanted design allows for directed lighting. Available in a choice of 5 finish options: Black, White, Dark Green, Galvanized, and Powder Coat Rust. Suitable for ...
The Eclyptix Pendant Light by Schonbek Lighting is ...
Description:
The Eclyptix Pendant Light by Schonbek Lighting is an elegant and contemporary addition to interiors. From within a smoothly curved shade, a dense shower of faceted crystals emerge, dazzling and defining space with a gentle layer of reflected and refracted ...
The Gregg Piccola Round Multi-Light Pendant Light by ...
Description:
The Gregg Piccola Round Multi-Light Pendant Light by Foscarini represents a technical solution that couples function with design harmony. The included multipoint canopy makes it possible to build compositions that utilize up to 9 pendants, creating a cascade of emotional ...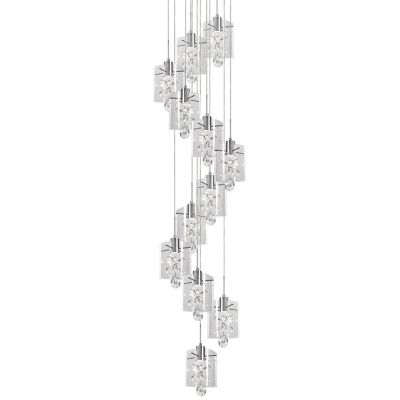 A force and grace capture the character of ...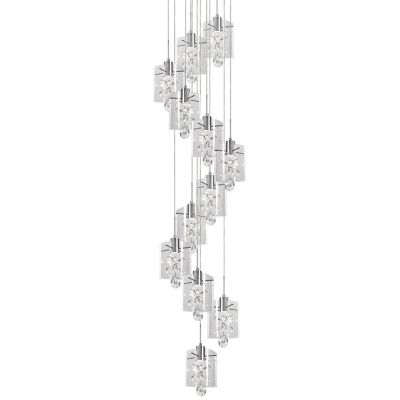 Description:
A force and grace capture the character of the Navi Waterfall LED Multi-Light Pendant Light from Kuzco Lighting. Like a cascading tower of water, a series of pendants fall from the canopy suspended with ultra-sleek wiring that gives the piece ...
Transform a living room or foyer into an ...
Description:
Transform a living room or foyer into an interior designer's dream with the Nula Multi-Light Pendant Light by Hinkley. Suspended from the steel circular-shaped canopy are 12 black cords attached with shell white finished shades, each of which boast luxe ...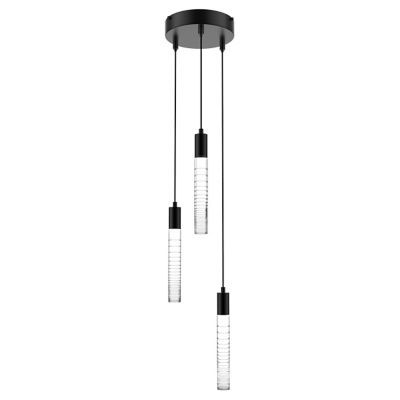 The Seraph Multi-Light Pendant Light by Blackjack Lighting ...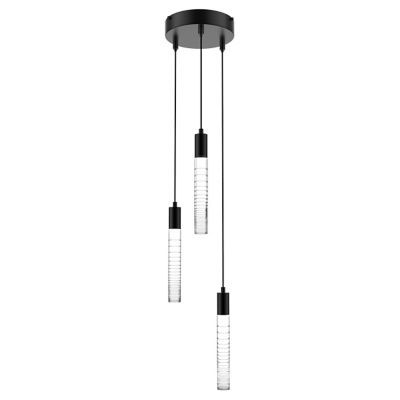 Description:
The Seraph Multi-Light Pendant Light by Blackjack Lighting inspires creativity when planning the design of a new build or a renovation. It features sleek, round mini pendants suspended from a circular canopy for clean lines and minimalism. The mounting hardware ...
Create A Well-Designed Space With Contemporary Square Pendant Lights
Among the most versatile lighting types, pendant lighting is a great way to instantly add style to indoor and outdoor spaces. Today's pendant lighting embodies sophisticated style that is easy to integrate into various décor styles ranging from traditional to ultramodern.
Ideal for residential areas like foyers, dining rooms, and kitchen islands as well as commercial spaces like conference rooms, lobby areas, and entryways, pendant lighting serves as a functional and easy to install lighting options for a variety of applications. Also, pendant lighting is available in a variety of sizes and shapes ranging from lantern pendants perfect for traditional spaces to farmhouse pendants and Edison pendants well-suited to mid-century modern or utilitarian décor styles.
How To Choose Square Pendant Lighting
Choosing square pendant lighting starts with measuring the ceiling height and square footage of the installation location. In general, spaces with more square footage work well with larger single pendants or a duo or trio of smaller pendant groupings. For additional interest in ultramodern spaces, putting pendants of differing sizes, shapes and finishes serves as an instant conversation starter.
Lighting type is also important when picking out the perfect square pendant for a modern residential or commercial space. Choose pendant lighting based on the illumination needs of the space. Square pendants with an open design are ideal for areas that need both ambient and concentrated task lighting such as offices, dining areas, or kitchens. Spaces like these work best with LED lamping that provides bright lighting for up to 50,000 hours.
Additionally, drop height is an important consideration, particularly for rooms with high ceilings. Always review installation requirements before purchasing new pendant lighting to ensure the model will work in the intended space.
Top Square Pendant Lighting Choices
Popular contemporary square pendant lighting models often have many common design features. Popular pendants will bode well with both contemporary and traditional spaces. Black square pendants are a favorite color option due to their simplistic style and ability to go with any décor style. Glass diffusers are another popular feature since they prevent glare of the light while providing even lighting for the space. For ultramodern or minimalist spaces, opt for square cage pendant lights that feature a floating design with LED modules integrated into geometric housings. For smaller rooms, there are a lot of square pendant fixtures to choose from and these lights work well in offices, corridors, and entryways.
The best square pendant lighting options feature energy-efficient LED lighting that save on energy costs and provides long-lasting illumination for ease of maintenance. Aside from LED lighting, many popular square pendants are compatible with multiple lighting types including halogen and incandescent lamps. To customize the light level, choose from a variety of square pendants that feature integrated dimming or are compatible with optional ELV (electronic low voltage) dimmers.
Other Considerations
No matter where you decide to install your new square pendant lighting, there are general installation rules that still apply. Ideally, hanging pendants should be no less than 60 inches from the floor and, when hanging pendants over desks or tables, the fixture should be between 28 and 36 inches above these surfaces. Keeping these installation guidelines in mind will undoubtedly make incorporating new pendant lighting quick and easy. Following installation recommendations ensure the safety and overall functionality of your new fixture and, in some cases, it is recommended that pendant light be installed by a qualified electrician.
1,999.00
2,999.00
sign up now
Find out about special offers, sales, exclusive promotions, and more.
Quick links

Shop With Confidence

About Us

YLighting Ideas
Copyright © 2019 YDesign Group, LLC | 866-428-9289
brontofooter included
brontofooter brontoAccessCouponManager included true
brontofooter brontoAccessCouponManager condition value:- true
brontofooter cart recovery view file is included
brontofooter cart recovery view file is included
brontofooter cart recovery view file is included