Modern Table Lamps - Contemporary and Designer Brands | YLighting
Table Lamps
root
YLLIG82
StandardColor
null
Showing 1 - 24 of 1255 Results
Table Lamps for Every Style
Both practical and decorative, table lamps are an easy and stylish way to layer the light in any space. No matter the style of the room, modern table lamps come in a range of materials, from glass to wood to crystal, are available in several sizes from small to large, and boast a variety of shapes, such as traditional and classic to abstract and unique. Whether illuminating dark corners or providing light for reading, there is a table lamp that will work in any room of a house.
Reading Table Lamps: Whether relaxing in a lounge chair or sofa with a book or working at a desk, a reading table lamp provides the directional light that is needed to properly illuminate the task. These lamps often feature an adjustable lamp shade allowing for the user to change the direction of the light when needed.
Bedside Table Lamps: A bedside table lamp is the perfect nighttime companion. For reading in bed or as a nightlight, these bedroom lamps provide the warm task light that is needed.
Cordless Table Lamps: While a table lamp is already the easiest light fixture to move and rearrange, its portability is magnified when the cord is removed from the design. Cordless table lamps operate off a battery instead of being plugged into the wall and tend to be smaller. In addition to their cordless design and size, these small table lamps feature a handle which optimizes their portability and makes transportation between spaces even easier.
Buffet Table Lamps: Also known as console table lamps, buffet lamps are perfect additions to a console, buffet, or credenza in a living room or dining room. Slightly larger and more ornate than the standard table lamp, these light fixtures provide ambient light as well as elegant, statement to a space.
Torchiere Table Lamps: A scaled down version of the floor lamp, the torchiere table lamp boasts a slender form that slightly resembles the silhouette of a candle on a candlestick. When illuminated, this lamp casts diffused, light upward creating indirect light that is a welcomed addition to a side table or console.
Make a Statement with Modern Table Lamps
In addition to providing light, modern table lamps can also enhance the decor of a room with unique shapes, bold colors, and ornamental designs. From completing the rooms overall design scheme to standing out as an attention-grabbing centerpiece, table lamps serve as a creative design element. A lamp like the Bourgie Table Lamp from Kartell, which boasts a classic silhouette with a striking finish like gold, white, black or brass, will add a complementary yet subtle, modern detail to a room. Or make a statement with a decorative lamp that doubles as a piece of art like the Veli Table Lamp from SLAMP.
Multifunctional Table Lamps
The modern table lamp is evolving into so much more than simply a light source. With a high focus on practicality, multifunctional table lamps boast a variety of additional features, such as a USB port so the lamp doubles as a charging station or a base that is a catch-all tray or even a speaker installed into the body to transform the light into a portable sound system. Due to these enhancements, these contemporary table lamps are the perfect additions to tables with limited surface space.
From classic icons like the Atollo Table Lamp from Oluce to highly modern fixtures like the IC Table Lamp from FLOS Lighting, and even LED table lamps from industry leading brands like Pablo, mid-century modern table lamps and Artemide, there is something for everyone in YLighting's wide selection of designer table lamps. With no sales tax and free shipping on most orders, YLighting offers the best table lamps for living room, bedroom, and office spaces.
Related Products
The A-Cote Table Lamp is from Schema and ...
Description:
The A-Cote Table Lamp is from Schema and designed by Segolene Aebi-Faye. Made in the Philippines, the silhouette resembles the stilt houses and hats of the fishermen. The handwoven structure features closely spaced and layered Galvanized Iron wires that create ...
Designed by Ludovica and Roberto Palomba in 2011, ...
Description:
Designed by Ludovica and Roberto Palomba in 2011, the Birdie Table Lamp from Foscarini possesses a playful silhouette, a colorful form, and the ability to transform modern spaces with its spirited presence. This tabletop light offers a compact option for ...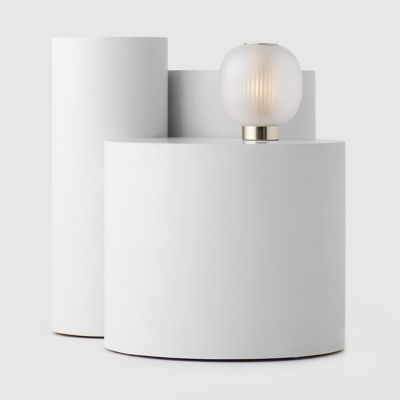 Contemporary design meets versatility in the Bloom Table ...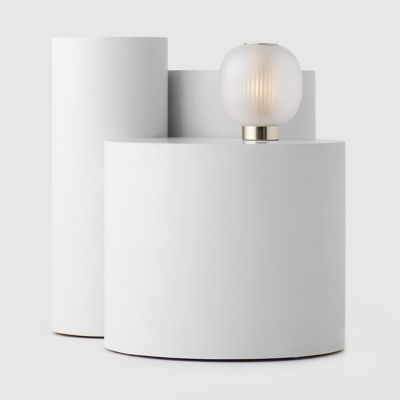 Description:
Contemporary design meets versatility in the Bloom Table Lamp by Resident. Crafted from frosted glass, this stylish table lamp features an oval shade and a sleek stainless-steel foundation. Adorning the glass shade is an intricate pattern that is emphasized by ...
With the Chou Table Lamp by LZF, designers ...
Description:
With the Chou Table Lamp by LZF, designers at Yonoh Studio conjure images of illuminated lanterns filling Hong Kong street scenes. This decorative table lamp provides diffused/indirect illumination and is offered in a variety of FSC certified wood veneers that ...
The Calvius Table Lamp boasts a chrome plated ...
Description:
The Calvius Table Lamp boasts a chrome plated frame and a hand made silk thread lamp shade. The high quality design of this modern table lamp paired with the diffused, accent light it casts, makes this light fixture a welcomed ...
With a contemporary design and uniquely, ribbed Borosilicate ...
Description:
With a contemporary design and uniquely, ribbed Borosilicate glass shade, the Bover Drop Large Table Lamp adds stylish flair to any office or work room for task lighting purposes. The integrated LED module and shade are supported by a sturdy, ...