Modern Vanity Lights and Bath Bars | YLighting
Vanity Lights
root
YLLIG87
StandardColor|Width
null
Showing 1 - 24 of 861 Results
Why
Vanity Lights

are Important for Your Bathroom

For a bathroom to be functional it needs to be well lit. Vanity lighting is the perfect way to add bright task lighting that is necessary for daily bathroom activities. While there are three main categories of bathroom lighting (accent, task and ambient lighting), vanity lights fall mainly into the task category because a vanity light's true functionality is its ability to provide directional lighting for everyday tasks such as shaving or applying makeup.
On Installing
Modern Vanity Lights

in Your Bathroom

Most commonly installed above the mirror, vanity light fixtures are often used to direct light downwards for localized light. Having a horizontal rectangular light fixture provides satisfactory lighting, but the best, most equal lighting will come from multiple vertical bath bars placed on each side of the mirror. The option of installing multiple vertical vanity light strips depends on the bathroom and its size, so keep this in mind when visualizing the design of your bathroom.

When choosing your light fixture, consider how much moisture and direct water will be exposed to it. Often with vanity lights, there is little direct water contact, so choosing vanity lighting listed as UL or ETL (for damp locations) will suffice. If you expect direct water exposure to your bathroom vanity light fixtures (more often in cases of close-proximity to a shower or bath), you will want to make sure your lighting choice is listed for wet locations.
Different Types and Styles of
Bathroom Vanity Lights
The most common type of modern vanity lighting is either a bar or strip form. Individual bulb lighting - often in 2, 3, 4, and 5 light fixture combinations – are also popular but generally less effective at diffusing light as equally as the rectangular and tubular bar strips.
Bathroom vanity light strips are available in a range of sizes and shapes as well as designs. For smaller bathrooms, you will find 12-48 inch vanity lights that will fit your space. For larger bathrooms, you may need to choose a wider bath bar such as a 72 or 96 inch light strip or use multiple smaller light bars.
There are a variety of different textures and colors to choose from among YLighting's vanity light bar options such as crystal, chrome, clear glass, industrial, bronze and black vanity lights. No matter what color or style your bathroom currently is, or what type of style you envision it to be, you will find the perfect vanity light in our selection.
YLighting provides five main lamp types within its bathroom vanity light selection for you to choose from. These include Halogen, Fluorescent, Incandescent, Xenon, and LED vanity lights. Keep in mind that task lighting should not cast a hard glow in your bathroom, but a soft one so to best illuminate your skin. Consider choosing a dimmer for complete control over your vanity lighting.
How to Bring Your Bathroom Décor Together with Vanity Lighting
Depending on what your vision is for your bathroom, you may incorporate a slim and minimalist bath bar to blend in with the existing décor, or it can be used to make a design statement by being bold and decorative. Where vanity lighting is used for the task lighting for the bathroom, you can add accent lighting to your bathroom with the use of wall sconces. Wall sconces accent your bathroom's design by creating depth and highlighting different areas of the bathroom. With your task and accent lighting covered, the only section left is the ambient lighting. This is where your bathroom ceiling lighting comes into play. Ceiling lights are used to illuminate the entire bathroom and provide the necessary lighting to navigate.
At YLighting, we have a vast variety of wall lights ranging in styles from mid-century modern to industrial to Danish modern to rustic for every room of the house. While offering the best selection in bathroom vanity lighting , YLighting also applies no sales tax and free shipping to most orders. For any questions about vanity lights, we have a team of lighting experts that are ready to help at (866) 428 9289.
Related Products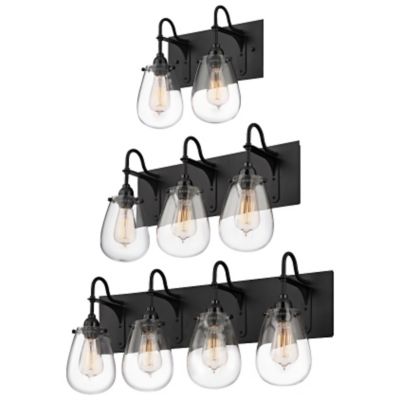 The Chelsea Bath Bar from SONNEMAN Lighting finds ...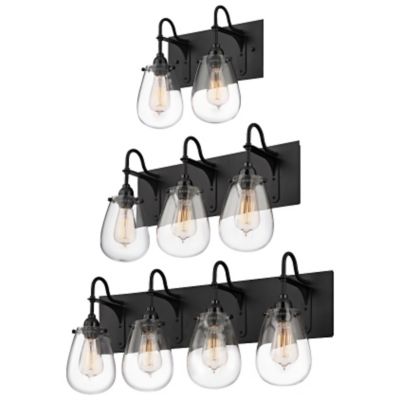 Description:
The Chelsea Bath Bar from SONNEMAN Lighting finds solace in its industrial roots. Featuring a metal body and lamping that is subtly encapsulated by voluptuous glass diffusers, Chelsea brings a distinct character to any modern space. Its clear shades are ...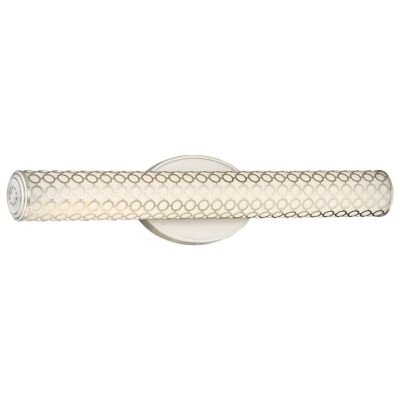 The Dots LED Bath Bar features a subtle ...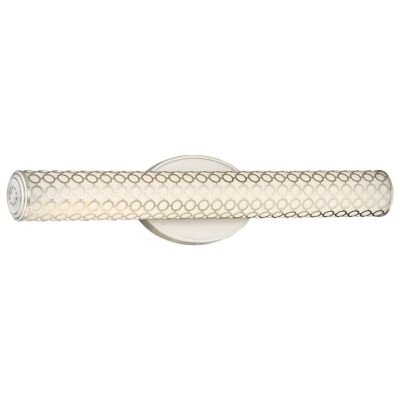 Description:
The Dots LED Bath Bar features a subtle graphic pattern that adds depth to its crisp detailing. Classy and sophisticated, the Dots LED Bath Bar embodies elegant etched glass in a beautiful brushed nickel finish, capable of being mounted vertically ...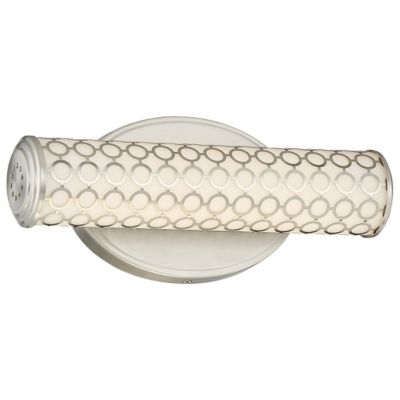 Clean and contemporary in design, the Dots LED ...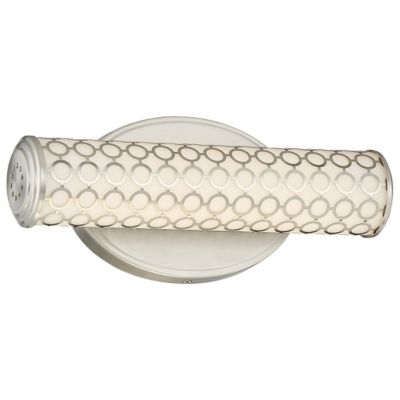 Description:
Clean and contemporary in design, the Dots LED P1261 12 Inch Bath Bar showcases crisp detailing in its subtle graphic pattern. The Dots LED P1261 12 Inch Bath Bar features etched glass and can be mounted vertically or horizontally. Available ...
Illumine your bathroom with the Elf Bath Bar ...
Description:
Illumine your bathroom with the Elf Bath Bar by Illuminating Experiences, a simple and elegant modern bath light with a universal electronic ballast. Its long opal glass tube is accented by beautiful metallic trims, providing soft, ambient lighting for any ...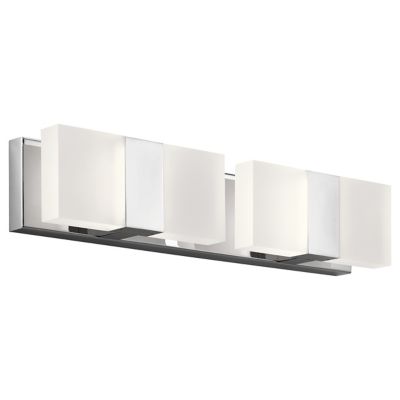 Grace your vanity with the beauty of a ...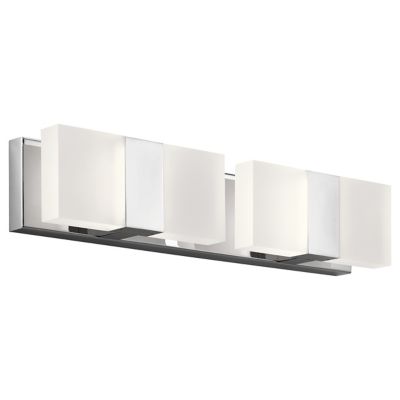 Description:
Grace your vanity with the beauty of a Haiden LED Bath Bar by Elan Lighting. Soft and shiny are perfectly combined in the layered design of this fixture. It features frosted acrylic shades paired with chrome hardware to deliver luxurious ...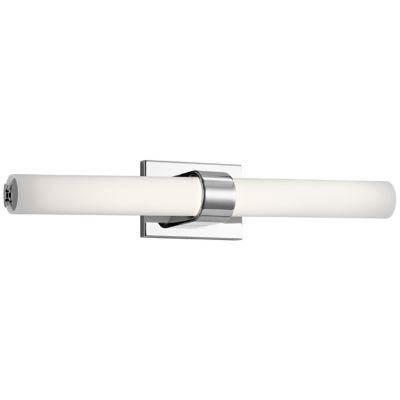 Set a relaxing tone in the most private ...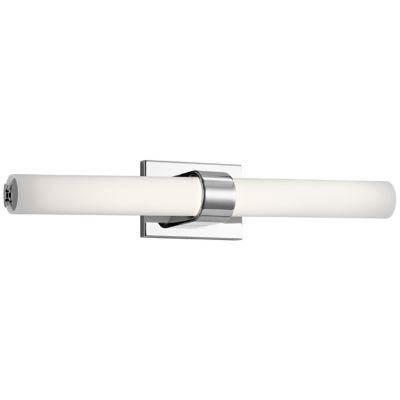 Description:
Set a relaxing tone in the most private room of your home with the Izza LED Bath Bar by Elan Lighting. The shimmering low-profile body and backplate allow it to be installed horizontally or vertically, while the dual opal glass ...